Tips for creating your own Space in your Dorm Room
When it's time to head to college and further your education, it can be a fun experience to live on your own for the first time. Many people choose to live in a dorm on campus, which means sharing cramped quarters with another roommate or with multiple people.
To ensure that you can create your own space and boundaries in your dorm room, here are a few important tips you can follow.
Loft Your Bed
You can allow your bed to feel secluded from the rest of the room by placing it several feet in the air, which will allow it to sit higher than the rest of the room. You can enjoy having added privacy as you sleep with extra space underneath the bed for a desk or for extra storage.
How to Loft your Bed
You can loft your bed by putting it on the top notch of the bed posts for an easy way of having your own space.
Add a Room Divider
Room dividers are a great way to add an extra wall in the room when you need to change clothes or want to create clear boundaries in the dorm room.
Adding room dividers can make it less awkward when you want quiet time and will also make it easy to keep clutter out of your personal environment.

Bring a Personal Fridge
One of the most effective dorm room setup ideas is to bring your own fridge when you want to avoid having your food raided by your roommate. You can enjoy having a place to store cold drinks or your takeout leftovers without having to worry about someone else getting into the food.


Keep the fridge on your own side of the room to ensure that it's clear that the appliance is not meant to be communal. 

Use Bed Risers
Adjustable bed risers lift the bed several feet off the ground and are considered to be a dorm space saver. By increasing the height of the bed, it makes for an area where you can store extra drawers for your clothing items or school supplies while keeping them out of sight.
Create Boundaries with Furniture
One of the most common dorm room setup ideas is to create boundaries with furniture that is used in the room between you and your roommate's space.
Consider purchasing a small loveseat or couch to close in your side of the room. You can also place a bookcase in the middle of the room, which can work as a wall that doubles as an extra area to hold your textbooks or paperwork.
You can also consider using a few poufs or bean bags in the middle of the room, which can work as an extra seating area. The furniture will also make the dorm room feel cozy with pieces that help to furnish the space. 


Install Shelves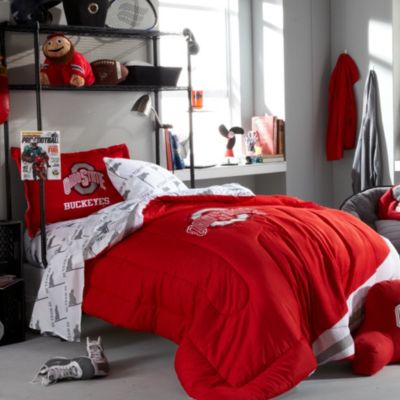 When you're looking for additional dorm storage ideas, installing shelves above your bed or desk can be an effective way to hold personal items that include picture frames or fiction books. You can also use the shelves to hold small boxes that contain extra school supplies or accessories. Making use of wall space with a dorm bed shelf can also contribute to the room's decor for a custom and personalized space that is specific to your personal taste.
Add a Rug
Make use of an oversized rug when you want to add extra warmth to the floor and also separate your side of the dorm room from your roommate's. Use a large rectangular rug that takes up half of the room and can be placed underneath each of your furniture items.
Choose a unique color or pattern that is specific to your taste and helps tie in your side of the room together.
Hang Mirrors
Mirrors can make the room appear larger and more spacious instead of causing you to feel cramped. Hang a full-size mirror on your side of the room or consider grouping multiple mirrors together on one of your walls.

You Can Have your Own Space in your Dorm Room
Although it can be easy to feel cramped in a tiny dorm room and have a lack of personal space with your belongings, there are a number of ways to feel more at home.

By setting up your side of the room with the right layout and products, you can avoid feeling smothered by your roommate and make your environment more comfortable.
For even more ideas to personalize your space, be sure to check out these 14 tips, too!